Teachers cannot create and sustain the conditions for productive development of children if those conditions do not exist for teachers.Seymour B. Sarason
The Family of Schools (FOS) Model is the District Learning Services structure to support school development and professional capacity building in the North Vancouver School District.
The FOS structure is intended to enable a more holistic understanding of school based priorities, professional in-service needs, as well as focus school and educator development at the school and classroom level.
Each Family of Schools (FOS) includes the full continuum of schools from elementary to their community high school. Each FOS is supported by a Director of Instruction, a Human Resource Manager, a FOS Leader, a FOS Teacher Leader, District Administrators, and the itinerant specialist staff. The FOS Team meets regularly throughout the school year with the respective Zone Assistant Superintendent, Principals, and Vice Principals to determine priorities and plans of support.
Visit Your FOS
Select a school from the list to see information about its family.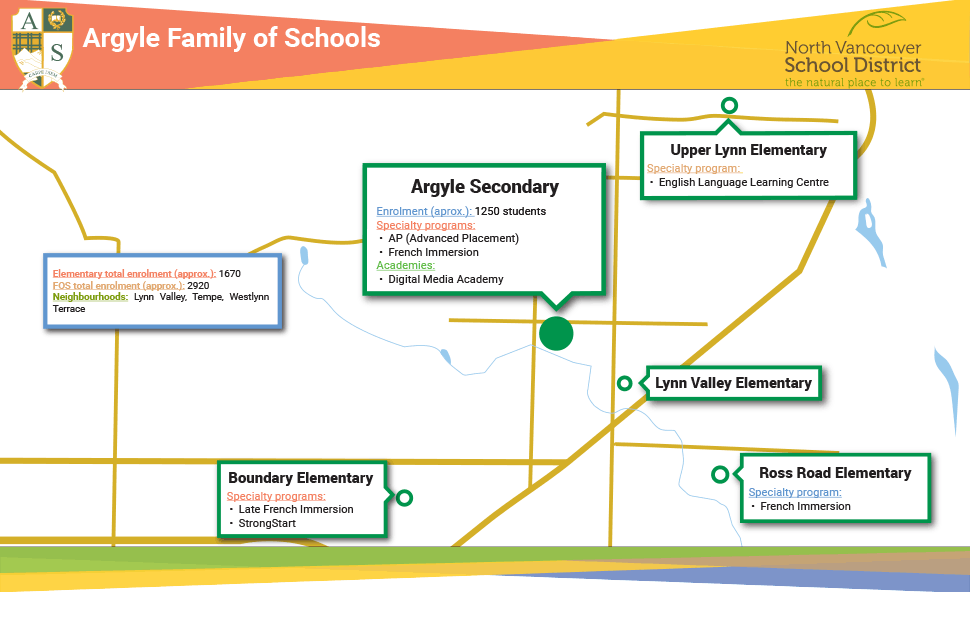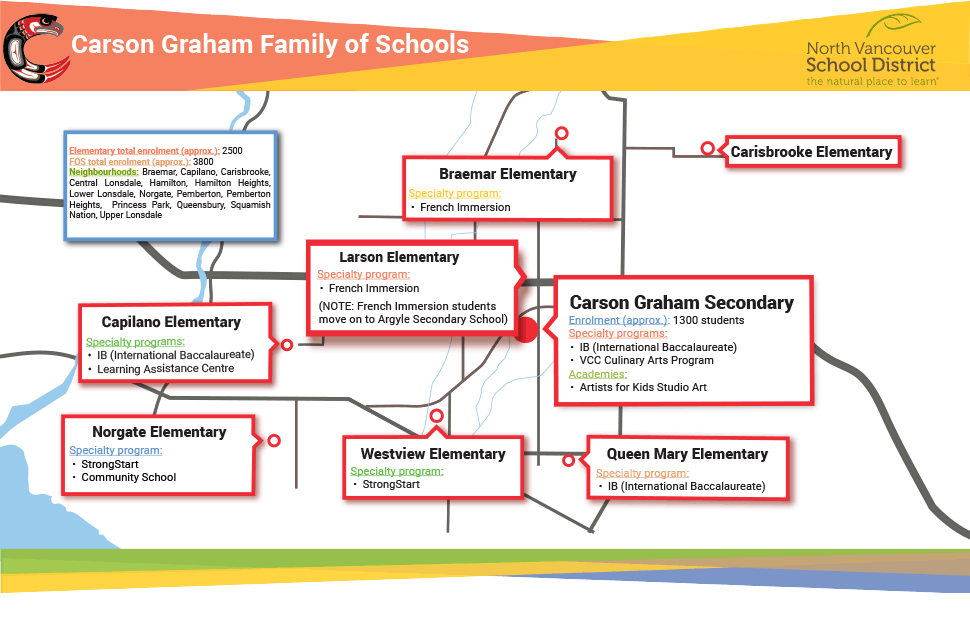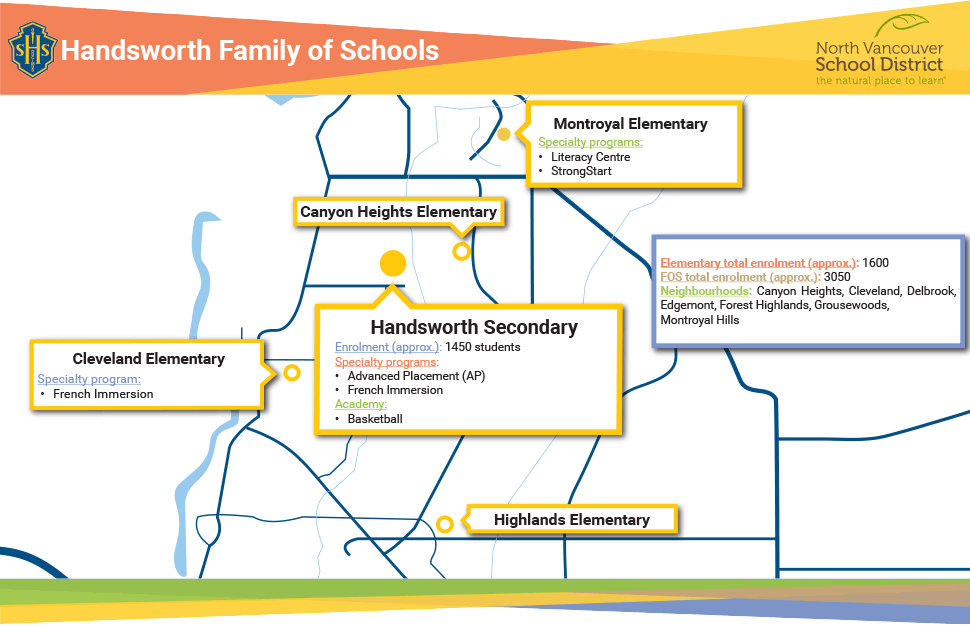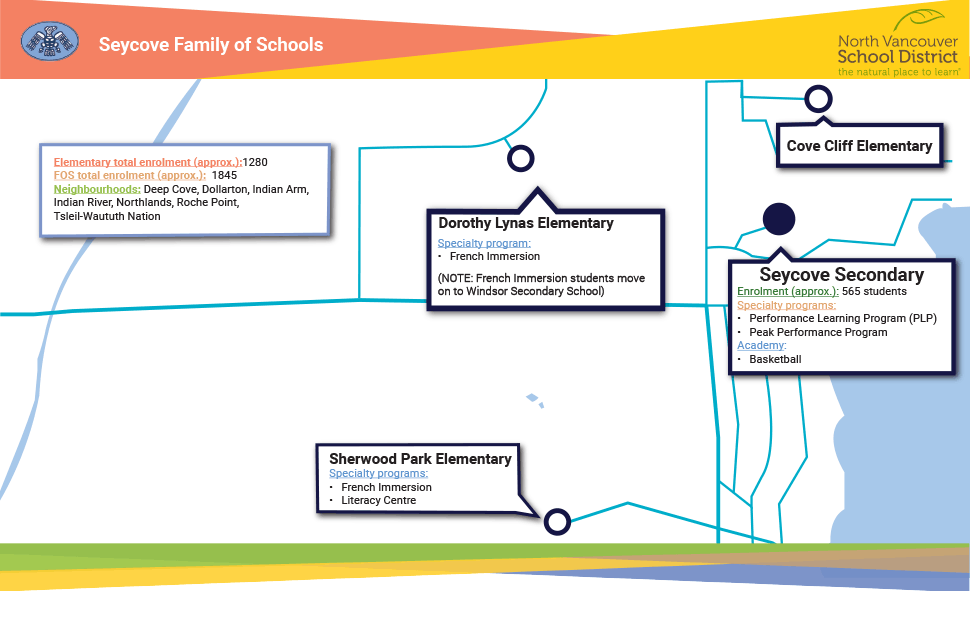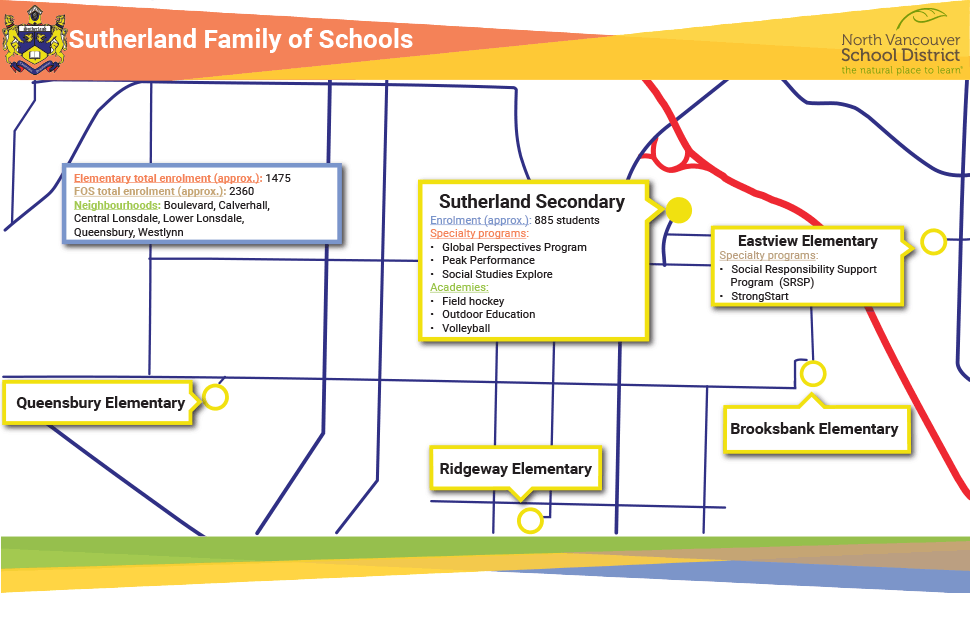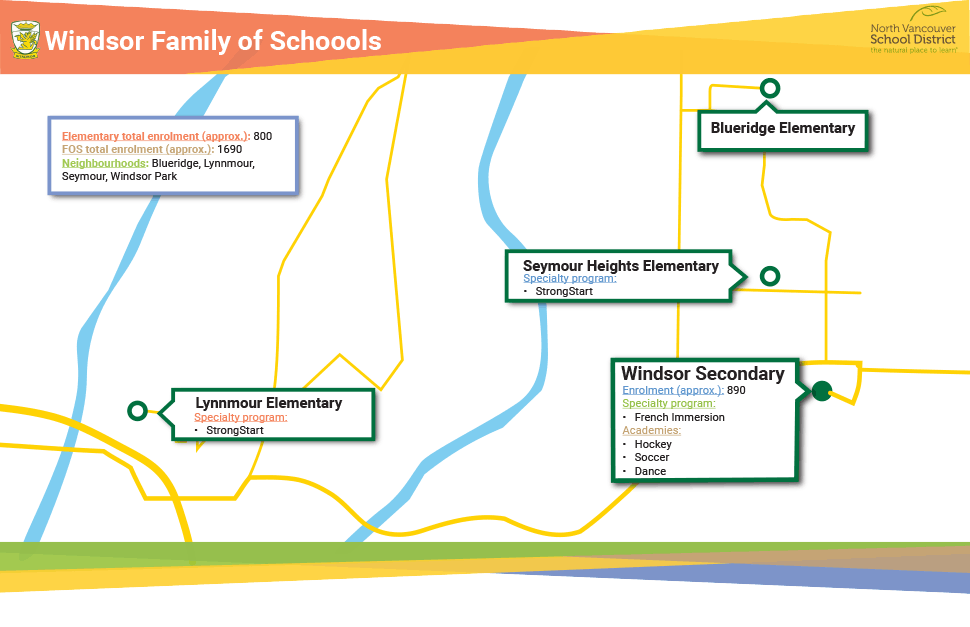 The FOS is a vision of a Learning Community where expertise can be developed and shared across school sites.
This expertise includes the development of universal classroom practice through to more targeted and intensive instructional support for complex learners. Key to the ongoing initiatives is the Pillars of Educational Practice (i.e., Curriculum, Instruction, Assessment, and Social Emotional Learning) and Universal Design (i.e., Universal Practices, targeted practices, intensive practices).
District Team(s)
Supervision and implementation of the educational direction for two Families of Schools
Identification and support of broad educational planning and human resource school issues
Promotes and supports the 'Attributes of a Vibrant Learning Community'
Supports the School Planning process and related priorities
Reviews district educational priorities such as Modernizing the Curriculum, Complex learners, Aboriginal Education, Social Emotional Learning, and Career Education
FOS Team(s)
Responsible for targeted educational planning and support at the FOS and School Level
Regularly meets to discuss specific school needs, identify supports and/or professional learning needs
Provides timely support for educational planning and capacity building with respect to the School Plan priorities, and/or identified direction by the School Based Resource Team (SBRT).
Promotes and supports District Educational Priorities such as Modernizing the Curriculum, Complex learners, Aboriginal Education, Social Emotional Learning, and Career Education
School Team(s)
Responsible for identifying school level, classroom, and student specific educational priorities
Facilitates the school's planning process and the identification of areas for development
Provides support across the "Four Pillars of Educational Practice" – Curriculum, Instruction, Assessment, and Social and Emotional Learning
Facilitates with district staff the development of school-wide priorities
Facilitates professional learning, and the design of effective classroom, and student specific educational support
Classroom Educator(s)
Identify educational areas of strength and focus in student learning and engagement
Facilitates positive classroom learning environments, sense of belonging, student engagement and learning
Identifies areas of priority for educational planning and support within their classroom
Contributes to identifying broader areas of focus for the school's development, as well as student specific learning priorities
Works with School Based Team(s) to enhance student learning and engagement at the classroom, and school level