Latest Progress & Updates

Progress Update: July 6th, 2021
This year presented an educational challenge like no other time in teaching. Students responded to a very different learning environment with resilience, perseverance and care. The entire school evolved into a Covid-19 safe space so that we could welcome our students each and everyday with full confidence that student safety was our top priority.
During this year, we were pleased to present learning in very innovative and re-imagined ways while supporting our school wide objectives.
In relation to our Indigenous Worldview goal, there was an increased emphasis on outdoor learning this year. Students spent much more time learning outdoors, and with the financial support of our PAC, teachers created materials to easily take learning outside (sit-upon's, clip boards, outdoor journals). On any given day, students could be seen:
Reflecting while sitting in the quiet of the forest
Exploring math, literacy and inquiry based learning outside
Using our circle structure or our log seating outdoor classroom
Creating visual art projects using a variety of mediums and tools
Nurturing our community garden, harvesting and sharing its bounty
Exploring nature using the lens of applied design technology and science to capture beautiful images of our school grounds in a photography challenge
Engaged with nature to develop our appreciation and connection to the lands around us.
Staff collaboration time used to share strategies and tactics to enhance outdoor instruction.
All these combined activities helped foster an appreciation and deepen our collective understanding of our Indigenous Worldviews.
"Learning ultimately supports the well-being of the self, the family, the community, the land, the spirits, and the ancestors." (First Peoples Principles of Learning)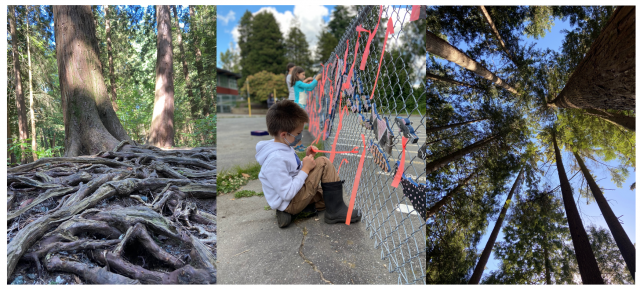 In June, we reflectively revisited the teachings of residential schools that we had touched upon in September for Orange Shirt Day. With the vision of guiding our learning into September we built an Indigenous History Awareness board to align with all our learning in June to celebrate Indigenous History Month. Our students energetically engaged in difficult conversations and took action to show our collective culture of care when it comes to understanding Canadian history and our shared responsibility as we move forward in our learning.
As we focussed on our second goal, to foster a sense of belonging, we opened our school year by making students feel a deep sense of "sameness" in this world where everything felt different. We enthusiastically welcomed our students back and committed to making sure that everyone fully understood and practiced the safety protocols everyday. We completed daily health checks, hand hygiene, same cohorts, staggered lunch and recess breaks, followed school signage, all while wearing masks and maintaining physical distance. We are proud to report that we held ourselves to a high level of safety all year long and we could not be more proud of our commitment to safety for all our students and staff.
This year we engaged in learning from a Social Emotional Learning lens to ensure that comfort levels were met and students attended each day with an increased sense of belonging.
Eastview School partnered with parents in embracing BIPOC (Black Indigenous People of Colour) initiatives where we invited inspirational speaker Parker Johnson to speak to our Intermediate students and held a parent education session as well.
We highlighted Black History Month, Asian Heritage Month, Indigenous History Month with bold interactive bulletin boards. This year we shifted our focus to the diversity of the family unit and aligned our teaching and celebrating with Family Day.
Our PIE (Partners for Inclusive Education) Committee brought excellent speakers to our community highlighting relevant topics for families and staff in our Eastview community.
We engaged each class in explicit teaching around a sense of belonging. Each student then provided one word to describe "belonging". This activity was presented to our PAC and to our staff at their respective monthly meetings. We collated all the words to create a "word art" cloud with the most common themes presented more prominently. Our concentrated work over the past three years to help all our students feel like they belong is beautifully captured in this word art. Thank you to our parent, Sherry Klochnyk who graphically designed the word art.
We revisited our Student Focus Group by inviting students from Grades 3-7 to participate in a series of questions around our two school goals. The results of our Student Focus Group answers can be seen in the Student Focus Group section. We immediately approached our PAC to help provided more equipment for our students for extra-curricular activities. Student voices matter and are a great agent for driving change at the school level.
We are proud of the way that our community was able to pivot to provide typical school activities in a re-imaged way. Our students proudly engaged and participated in:
Assemblies, field trips, presentations using MS Teams platform (Remembrance Day, Winter Concert, Band Concerts, Field trips, Children's Festival, NS Black Bear Society, Water Conservation and Climate Change Presentation)
Talent Show virtually
Hot Shots in cohorts
Sports Day in cohorts
School wide dance activity on the field socially distanced
Celebration of Learning virtually
Grade 7 Farewell Ceremony live streamed
North Van Cares project to make cards for elder friends in the community
Kilometre Club and Track and Field
Orange Shirt Day, Pink Shirt Day and Black Shirt Day.
As this year closed in a rather HOT way, we gently bid this year a fond farewell. We look forward to a more typical year with a movement back towards well known and loved activities.