Latest Progress & Updates
Westview School Plan 2021-2022
Progress Update: July 2022
During our 2021-2022 school year, our Westview School Community has reflected with pride at the work we have done towards our School Goals:
1. To promote a sense of belonging and engagement through honouring of community diversity.
2. To deepen our understanding of Indigenous culture and ways of knowing and integrate into all areas of curriculum.
These goals continue to resonate with our School Community and offer new challenges. During our 2021-2022 school year, our community has wrestled with finding new directions, new energy, and new growth as we enter the 2022-23 school year.
A third goal has emerged for the 2022-2023 school year. This goal will be:
3. To enhance and develop students' writing skills.
Westview staff and parents met in the fall of 2021 to start the process of reflecting on the school plan. Our work centred around four "compass point" questions to guide our journey. Below are some of our "in the moment" thoughts from this meeting:
What do we need to help us with this process?
A coming together of ideas and experiences to feed this vision
Support from the entire school community.  A clear plan with check points; communication with all members of our school community
Need to know where we have come from (history) and where we are (present) in order to know where we need to / want to go (future)
Need honest, open communication with all involved parties
What excites you about the choosing school goals for Westview?
Looking at the growth of the school as a community, not just academic learning but also social -emotional aspects as well
Continuing to build on Westview's strengths and looking for stretches
Opportunities for growth and change
To have a collective voice, opportunity for student voice
Belonging to a community that practices empowerment and improvement
The opportunity to focus our attention and achieve goals that are meaningful to us
An opportunity to strengthen our sense of community after/ during the challenges and isolation of COVID
What worries do you have about choosing these goals?
Do we have enough different voices giving input into creating these goals
I worry that if we take on many goals, we may lose focus and have a harder time accomplishing those goals
Forgetting to focus on the big picture
Will they be achievable? How will we measure/ how will we know?
Will they meet the needs of all learners/ community?
What is your current stance? What should our next step be? What suggestions do you have?
Less is more
I am involved but how can we welcome other parents be involved
Setting goals that are attainable
More community involvement, more voices at the table
What are we already doing that we can build upon
We are in good place to begin this work.
This work is ongoing, and we look forward to gathering more voices as we enter the 2022-2023 school year.
During the 2021-2022 school year, North Vancouver School District released its new 10 year strategic plan. This document has been a guide for inspired practices within Westview School. Here are few highlights from our 2021-2022 school year:
Student-Centred Education
Continued work supporting the needs of all students, including under-desk pedal machines to help student focus and wellness
Provide students a greater voice regarding their education
Innovative Instruction
Four staff members attended the Harvard Education, "Making Thinking Visible," course and shared learnings with Westview staff
Focus on modeling innovative/ creative thinking and promote it in the classroom
School wide focus on the core competencies
Welcoming and Inclusive Culture
Welcoming students and parents to school in a positive/ inviting manner
Finding opportunities to recognize and celebrate the holidays of our diverse community
Westview enjoyed many Spirit Days
Fun Day was a special time of connection in our School Community
Mental Health and Well-Being
Westview students took part in the Social-Emotional Wellness program, Second Step
The return of Triple Ball, Basketball, and Track and Field was a wellness highlight for many students
Truth, Healing and Reconciliation
Westview continues to have active Indigenous student leadership with many ongoing projects
Westview students sang the Salmon Song accompanied by drumming to welcome the arrival of salmon eggs to our school
Environmental Stewardship
Our Grade 6/7s placed first in Canada while competing in the Wild Wisdom Global Challenge, an international online school competition for learning about our changing environment
Connecting with the green space surrounding Westview, using our natural environment as a place for learning
Maintain the school garden
Westview Elementary continues to be a vibrant place of growth and learning. We look forward to expanding the sense of belonging, encouraging engagement, and meeting the diverse needs of our students. Our community continues to deepen our understanding of Indigenous culture as together we strive toward reconciliation.
Goal 1 2020-21
To promote a sense of belonging and engagement through continued honouring of community diversity.
Westview has open communication with parents/guardians and the community. The Monday Message is published weekly to keep the community informed. Westview has also started a Facebook Page for parents and guardians to stay up to date. Due to Covid 19 school events this year were done in a virtual format.
New Playground
A focus at Westview Elementary this year has been the much anticipated accessible playground. Through generous donations from the Westview PAC, the City of North Vancouver and the NVSD a new accessible playground was opened to much anticipation and happiness.
Second Step
As part of Westview Elementary's goal of promoting a sense of belonging, all classes participated in the Second Step Program to focus on Social Emotional Learning.
Spirit Days
Westview Elementary held many spirit days to continue to build a sense of community and connections. Two of the most popular, were Jersey Day and Pajama Day.
Winter Celebrations
This year Westview Elementary held a virtual Winter Celebration in which each class shared and acted out the words to one chorus from a song. This was followed up with a school sing along virtually from our classrooms.
Remembrance Day
Students from each division shared readings, poems and art through a virtual assembly to honour and acknowledge Remembrance Day
Thanksgiving
Due to Covid 19 Westview Elementary was unable to hold our annual Thanksgiving meal. This year we held a virtual assembly and shared story about being thankful.
Halloween Parade
Students had the opportunity to share their costumes in a virtual parade this year! Great fun was had by all!
Goal 2 2020-21
To deepen our understanding of Indigenous culture and Ways of Knowing and embed into all areas of curriculum for all learners.
National Indigenous Peoples Day: June 21st 2021
Westview Elementary recognized and honoured National Indigenous Peoples Day this year through a month long participation in a beading project to learn and understand about Material Culture through Indigenous Ways of Knowing.
Students and Staff contributed beading pieces to a school community project which was unveiled on National Indigenous Peoples Day. The Principal shared the Oral Story of the Two Sisters which connected Westview Elementary to place and an understanding of connections to the land.
Student leaders shared and reviewed the learning that had taken place prior to unveiling the project through a virtual presentation.
School Wide Beading Project and Drum Painting
This year Westview Elementary participated in a school wide Beading Project to share the meaning of the Material Culture and beading. Staff participated in Pro D Sessions before visits to classrooms to share with students. Students and staff contributed pieces to the community project.
The second part of the School Wide Project was to invite Gordon Dick,Tsleil-Waututh/Lil'wat, to continue to share teachings about the feather and logo he gifted to Westview Elementary in 2019.
With Gordon's permission Intermediate students painted the drums that previous Intermediate students made.
Dogwood 25 Initiative
Two classes participated in the Dogwood 25 Initiative to embed Indigenous perspectives in Math Curriculum.
During the year Division 3 examined Beading and Weaving as Patterning, Graphing Coding and Measurement; Spindle Whorls as examples of Translation, Rotations, and Reflections. They also examined how Contemporary Indigenous artists apply teachings to art. Through story and teaching, students made Dream Catchers using the concepts of spirals in nature, the Fibonacci Sequence and Indigenous Storytelling. In addition, students explored Maple Tapping through Indigenous Storytelling, to develop an understanding of spirals, ratios, probability, solutions and measurement. through connection to land and place. Students also investigated perimeter and area through understandings of Bentwood boxes.
Division 6 took to the local trails on a weekly basis to build a stronger connection to the land. Students explored a variety of concepts, but measurement was a primary focus this year. Students explored the forest to find sticks that they would use as rulers, then measured different objects found along the local trails. While measuring these objects, they learned to identify different plants and trees, and to use descriptive language about what they were measuring. Students measured creek depth and width over time, as well as salmonberry bush growth over the course of a few months. Through stories and exploration, we connected to the First Peoples perspective that the land is a garden, and we considered the anticipation and signs that are important for First Nations Peoples living off the land. Students learned about different trees growing on our local trails and took measurements of their circumference. When learning about the sizes of different long houses of the Squamish Peoples, we went to the field with meter sticks to get an idea of the great size of these buildings.
Intermediate Classes Weaving Project.
All intermediate classes learned about the cultural material of Coast Salish weaving and had the opportunity to learn how to make a quarter bag.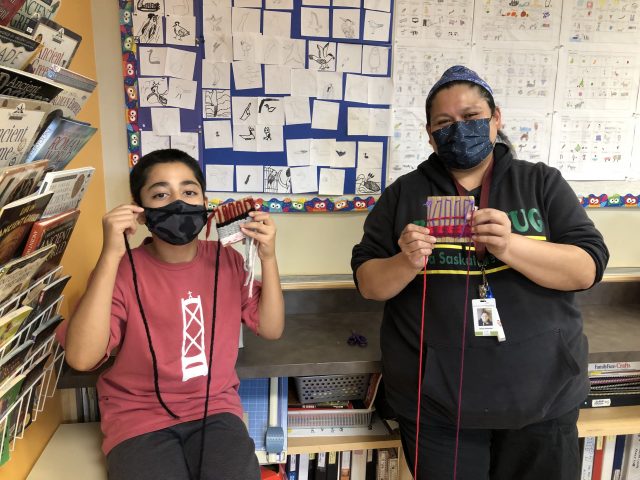 Salmon Release
Two classes led the Salmon Release this year following process and protocol. Students from the Indigenous Leadership group and Ms. Rudy Forgie, ISW, led the classes in releasing the Salmon.
Salmon Welcome
This year, Westview Elementary, followed process and protocol to welcome the Salmon Eggs. Students from the Indigenous Leadership Group, Ms. Forgie and Ms. Maki led the school in song with the Salmon Welcome Song gifted by Latash, Maurice Nahanee.
Playground Preparation and Opening
Students from the Indigenous Leadership group and staff prepared the playground site following process and protocol to prepare the space for the construction of a new playground over Spring Break. Once the playground was completed the staff and students prepared the playground to be opened following process and protocol.
Indigenous Youth Group
During the 2020-21 school year Westview Elementary in partnership with the NVSD Indigenous Education team and Game Ready established a youth group to explore finding balance through cultural teachings and sport.
Orange Shirt Day
Due to Covid 19, Westview Elementary could not gather in person to honour and acknowledge Orange Shirt Day. Classroom discussions, learning about Orange Shirt Day and sharing of story occurred.
Downie Wenjack Legacy School

Westview Elementary continues with the commitment to learn about Truth and Reconciliation and the history of Residential school in Canada. Westview Elementary participated in the Legacy Week again this year.
Indigenous Student Leadership Group
Westview Elementary established an Indigenous Student Leadership Group during the 2019-2020 school year. This year, students were able to participate and lead in various virtual events at the school this year.
Westview School Plan 2019-2020
Goal 1
To promote a sense of belonging and engagement through continued honouring of community diversity.
Communication
Westview has open communication with parents/guardians and the community. The Monday Message is published weekly to keep the community informed. Westview has also started a Facebook Page for parents and guardians to stay up to date.
Together Time
At Westview, our community comes together in multi-grade groups to share and learn together. We call this Together Time. Students and all staff have the opportunity to build relationships and build a sense of community.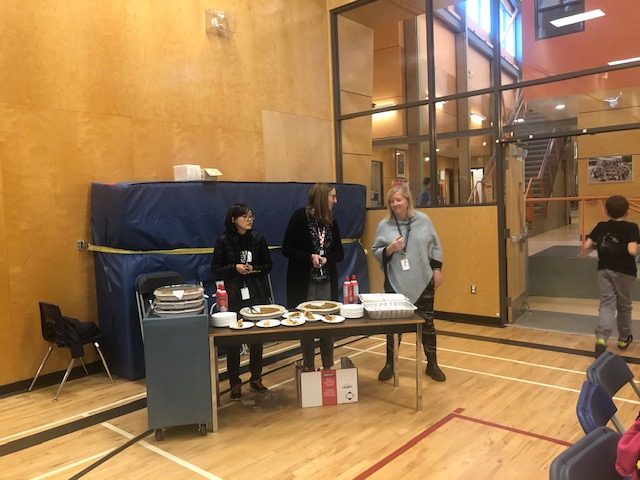 Thanksgiving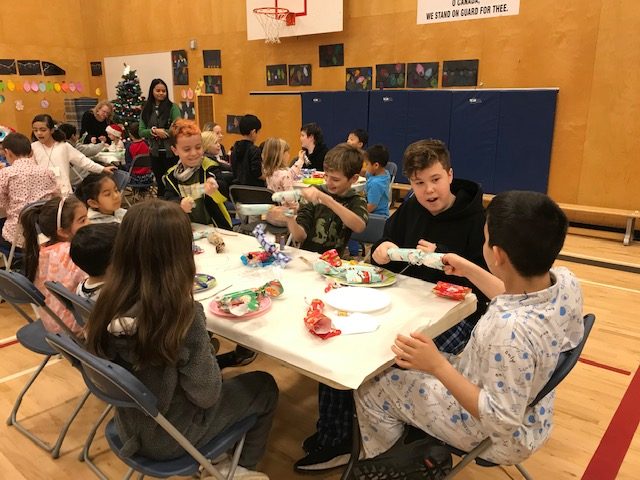 Pancake Breakfast
Monthly Celebration Assemblies.At Westview we hold many different assemblies to honour the diversity of our community. These assemblies may include the Terry Fox Run, Orange Shirt Day, Halloween Costume Parade, Remembrance Day, Together Time, Winter Celebrations, Salmon Welcome and many different student led events.This year Westview celebrated the diverse talents of students K-7 and held our first Talent Show.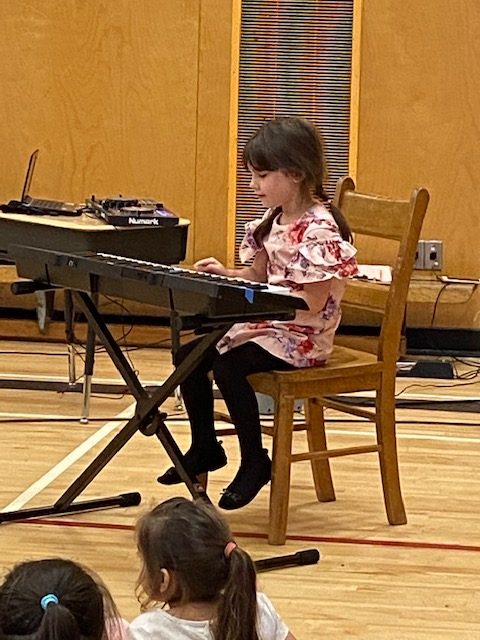 Student performances included singing, dancing, magic, beat boxing and DJ demonstrations. The talent show brought the Westview community together to highlight and celebrate the many talents of our community.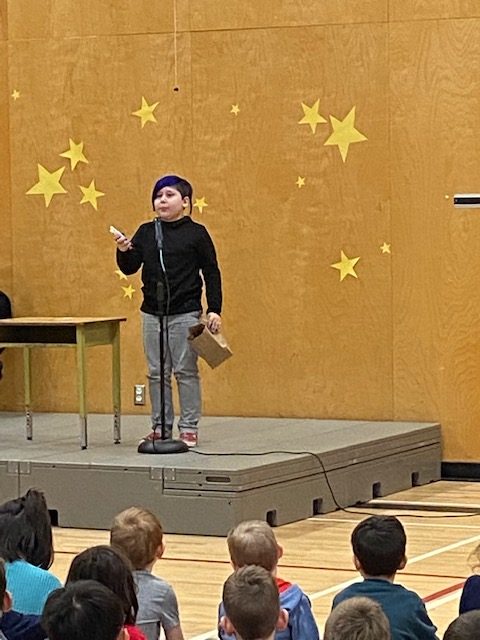 PAC Events
At Westview, our active Parent Advisory Committee hosts many different community events. These events are open to all students and their families. Some of these events include an ice cream social, Halloween Dance, Multicultural Dinner, and Celebration and PAC movie night.
WE Club
Intermediate students are participating in the WE Club. Westview's WE club is working to build community and bring about positive change.

Connecting During Covid 19
During the Covid 19 Pandemic Westview is working hard to stay connected with the Westview Community. Westview staff have participated in a car parade, a photo collage and made a workout video to connect with our community and to share that we are in this together.
Westview Workout Video
Goal 2
To deepen our understanding of Indigenous culture and Ways of Knowing and embed into all areas of curriculum for all learners.
September 2019 – Indigenous Student Leadership group established.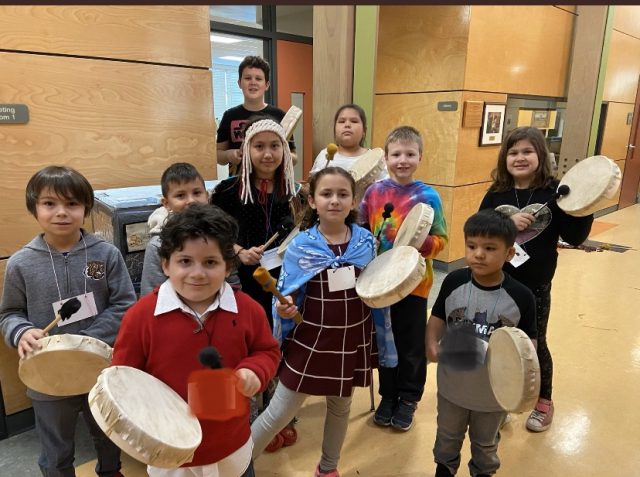 This group is open to all Westview students of Indigenous ancestry. The group meets weekly to learn and share culture together.
October 4, 2019–Curriculum Implementation Day
Westview staff explored Core Competencies through Indigenous perspectives and story telling.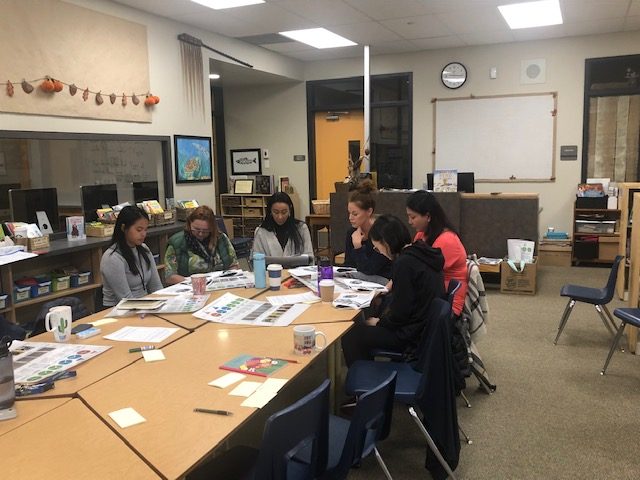 Orange Shirt Day 2019 – Preparation and Assembly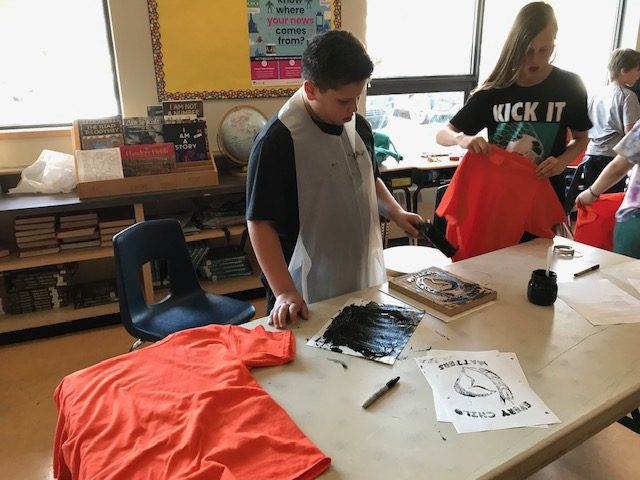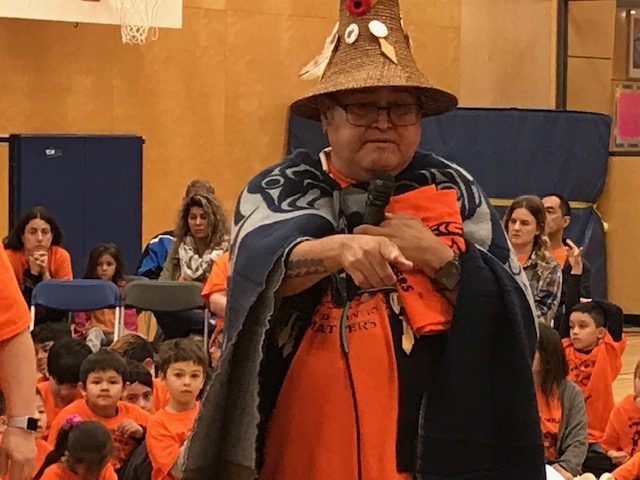 Students presented on the process and protocol followed to make t-shirts for Orange Shirt Day as a school-wide community. Reciprocal relationship between Tsleil-waututh artist and NVSD Indigenous Cultural Worker, Gordon Dick, and parent artist, Pamela Westerman, made this possible. All staff and students of the Westview community wore their orange t-shirts for Orange Shirt Day to welcome Sempulyan to share his personal story as a Residential School survivor.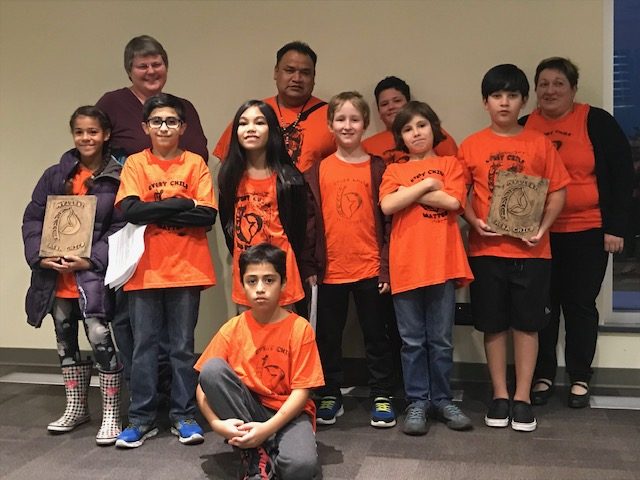 October 15, 2019 – Student presentation at Public Board Meeting
November 1, 2019 School -based Professional Day
Swalklanexw, Dallas Guss, led Westview staff on a walking tour of Xwáyxway, Stanley Park, to develop understanding of local place and connection to land through story.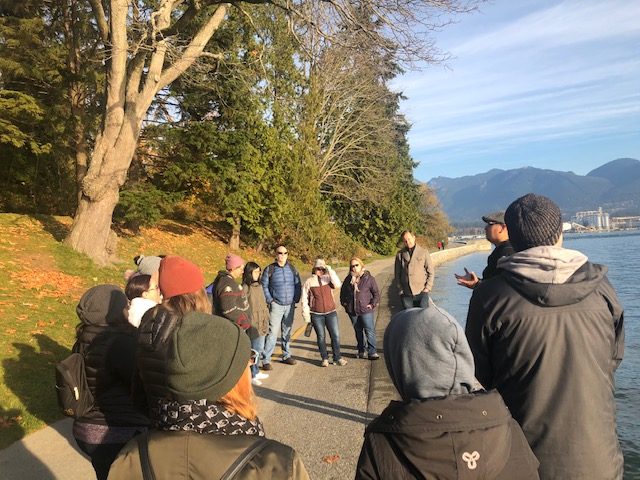 November 18, 2019 – Squamish Carver, K'na'kweltn, Darren Yelton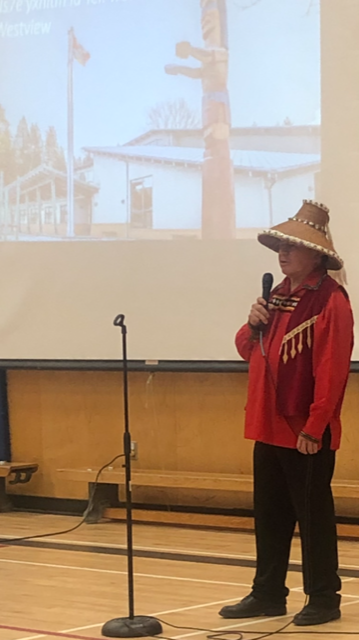 K'na'kwetn shares the story of place and process of carving the Kyactn Pole that he carved for Westview
January 9, 2020 -Circle in the Box
Swalklanexw, Dallas Guss, facilitated the experiential learning 'Circle in the Box' to continue staff development on understanding of what it means to walk in two worlds.
February 14-2020 Salmon Welcome
On February 14, 2020 Westview was honoured to welcome Swalklanexw, Dallas Guss to share the story of The Salmon People and work with Westview Indigenous Student Leadership Group to welcome the Salmon. The Indigenous Student Leadership Group led each Together Time group through singing of the Salmon Song and brushing off the cedar tank with cedar.